Exit Planning Philosophy
Exit planning is good business strategy.
Official 'Exit Planning' Definition: Exit planning combines the plan, concept, effort, and process into a clear, simple strategy to build a business that is transferable through strong human, structural, customer, and social capital. The future of the business owner, their family, and the business itself are addressed by exit planning through creating value today.

Exit planning is not just a plan. It is a strategy rooted in execution that grows value while expanding options so that an owner can transition the business on their terms when they are ready. It aligns the business, personal, and financial needs of the owner. Certified Exit Planning Advisors (CEPA®) educate the owner on all of the exit options and enters an engagement with an exit-option-agnostic perspective as to truly serve the business owner's diverse needs. CEPAs collaborate with a seasoned, multi-disciplinary team of professionals to support the success of the business owner and use each other's specialties and expertise to the benefit of the project.
The Value Acceleration Methodology™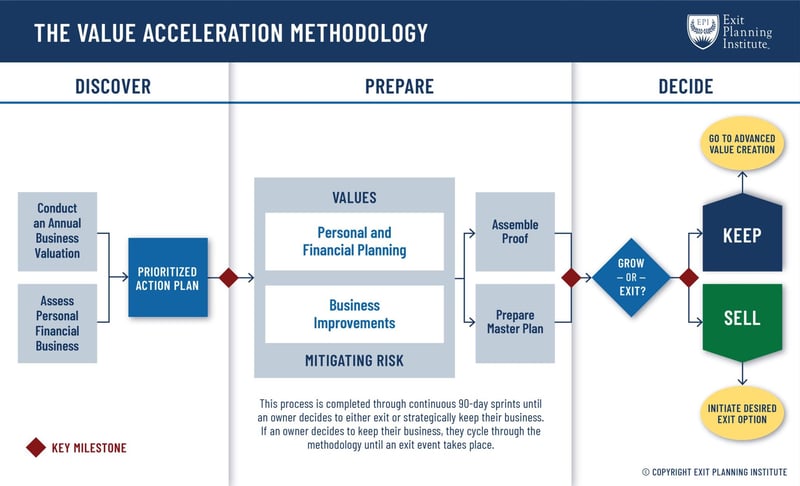 The Value Acceleration Methodology™ is your strategic framework for executing exit planning. It is the value management system that makes the timing of an exit irrelevant. Exit planning is laser-focused on what you can do right now to grow the value of the business and drive income. Forget the future. Focus on today. By focusing the approach on building a business with characteristics that drive value and integrating the owner's personal and financial objectives into it now, there will be many options to exit on the owner's timeline and terms.

These concepts are covered in depth in Snider's book, Walking to Destiny: 11 Actions an Owner Must Take to Rapidly Grow Value and Unlock Wealth. Download the Value Acceleration Methodology origin story and case study now.
DOWNLOAD THE BROCHURE
Learn more about becoming a Certified Exit Planning Advisor (CEPA®).