Walking to Destiny: 11 Actions an Owner Must Take to Rapidly Grow Value & Unlock Wealth
For Business Owners. By a Business Owner.
Walking to Destiny is not only your essential resource to understand what makes your business attractive and ready for transition; it is a business owner's handbook to know HOW TO rapidly grow value and ultimately unlock the personal wealth trapped in your most significant financial asset: Your Business.
The Voice of the Industry:
Christopher M. Snider, CEPA®, CEO of the Exit Planning Institute, creator of the Value Acceleration Methodology, and Managing Partner of Snider Premier Growth is recognized as a thought leader and trendsetter in the field of value acceleration and exit planning. With a message that resonates with entrepreneurs across the country, Chris is a sought-after speaker for many major companies, trade industries, and the associated organizations that are dedicated to service the transition and growth needs of owners.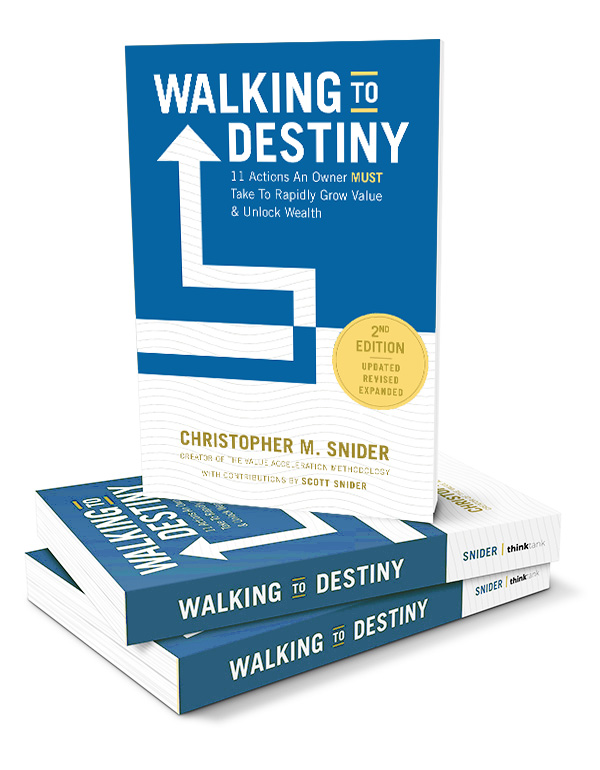 Written by Chris Snider
Order Price: $24.99 + shipping
Bulk discounts available
Discounts Available for Bulk Orders
Recommended Reading & Additional Books by CEPAs
Many of our CEPAs have written books about exit planning, business growth, entrepreneurship, and leadership. We have listed a few books from CEPAs below. Are you a CEPA® and an author?

Let us know about your book! Contact Colleen Kowalski with more information about your book!

EPI receives a portion of the sale of the following resources.