ABOUT THE EXIT PLANNING INSTITUTE
The Exit Planning Institute (EPI) is an education company.We are powered by a dedicated staff, industry experts, and market leaders, that are passionate about providing top professional advisors the best industry content, ongoing practice support, and owner education resources. From humble beginnings, EPI has grown to become the exit planning market leader while staying focused and true to our mission. We are an education company that certifies and supports more than 5,000 CEPAs (and counting) as well as thousands of advisors worldwide through national, regional, chapter, and virtual education. Explore our history and make plans to play a part in our future.
2001: Exit Planning is Needed
"Am I truly meeting my client's objectives?" -Peter Christman, EPI Co-Founder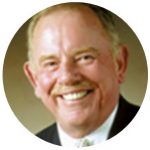 In early 2001, Peter Christman, an accomplished investment banker, began to recognize that despite the successful sale of the business, his clients lacked the level of satisfaction he aimed to bring them. One of the key issues: owners did have proper planning for post-exit life. On top of that, there were many other personal, business, and financial considerations that factored in that didn't get much attention in the transaction process. The need for a holistic approach to 'exit' was significant.

Christman set out to change this for his clients and the profession as a whole.
2003: The Release of "The $10 Trillion Opportunity" Book

In 2003, Christman teamed up with Richard Jackim, who later wrote the book, The $10 Trillion Opportunity: Designing Successful Exit Strategies for Middle Market Business Owners, which increased industry awareness of the need for proactive exit planning and created a demand for an organization to serve as a resource to advisors working in this space.
2005: The Exit Planning Institute is Formed
In 2005, Peter Christman and Richard Jackim officially formed and launched a new professional education organization for advisors: Exit Planning Institute (EPI). The organization was purely membership based for two years.

It wasn't until 2007 that the organization offered training programs, and in 2016, EPI discontinued non-credentialed membership so it could focus efforts and resources on those most immersed and involved in the exit and succession planning profession.
2007: The Launch of the Certified Exit Planning Advisor (CEPA®) Program
—Serving 50 advisors nationwide—
In 2007, EPI released and hosted the first Certified Exit Planning Advisor (CEPA®) credentialing program. The curriculum followed the principles found in The $10 Trillion Opportunity and was designed to educate professional advisors who worked with business owners on the specific process for exit planning. The course exposed advisors to the diverse set of disciplines that contribute to an effective exit plan and the tools needed to execute the work. The CEPA® program was a success and it began to be offered twice per year at the University of Chicago, Booth School of Business.

In 2008, Christopher Snider (a professional M&A advisor who later would acquire EPI) became a CEPA® and as a member, became passionate about advancing the organization.
2012: EPI is Acquired by Snider Premier Growth
—Serving 200 advisors worldwide—
The next evolution of EPI came as Christman and Jackim looked to make their own transition. They first looked to the EPI membership and approached Christopher Snider. Since earning his CEPA® credential in 2008, Snider had cultivated a successful private practice solely dedicated to exit planning and value growth services, fostered the largest thriving chapter in the country, and opened a small family investment company with his business partner and son, Scott Snider (who had recently sold his landscape management company to a strategic buyer).
Combining their vast experience in rapidly growing business value and their shared passion for education and helping business owners successfully transition, Snider and Snider purchased EPI in late 2012.
2013: EPI advances the Industry with the introduction the State of Owner Readiness Research & Value Acceleration Methodology
—Serving 350 advisors worldwide—
The two years post-purchase represented an era of innovation and advancement for the organization and the larger exit planning profession. Recognizing the need for collaboration, mindset shifts, and a universal methodology to help advisor and owner speak the same 'exit planning language,' the Sniders, alongside key members, developed strategies, research, and content that could advance the industry and reframe the exit planning conversation to be less about the exit/sale and more about creating transferable business value today. These improvements included the first-of-its-kind 2013 National State of Owner Readiness™ research study and the now industry-adopted Value Acceleration Methodology™, which provided a clear process for managing exit planning engagements and leading diverse teams.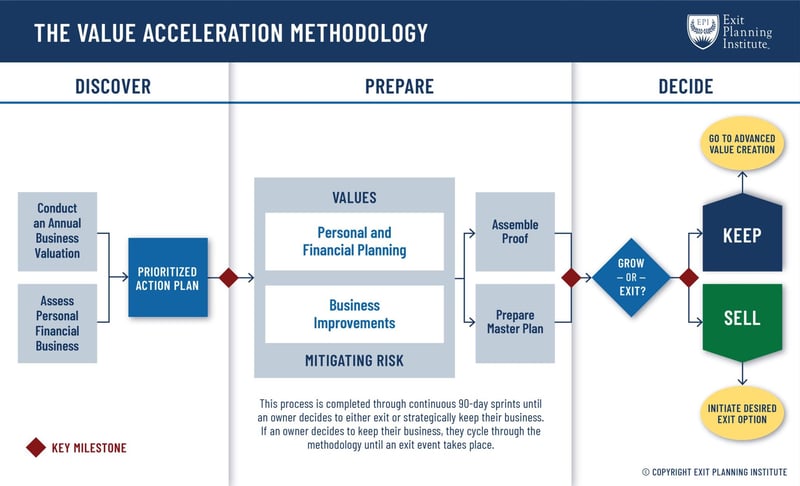 Chris Snider created and released the Value Acceleration Methodology for use within the EPI membership base. The CEPA® program was adapted to incorporate and teach along this framework as well. His contribution of the Value Acceleration Methodology caused Chris Snider to be nominated and ultimately be a finalist for the AM&AA 2015 Thought Leader of the Year awards.
2015: EPI Grows in Network Size and Program Options
—Serving 700 advisors worldwide—

Gaining industry recognition from Snider's contribution of the Value Acceleration Methodology™, EPI began the next era of rapid growth and resource expansion:

Chapter Growth: The local EPI Chapter Network jumped to 16 locations serving more than 500 professionals from all corners of the country.

'Exit Planning 101' Course Created: A condensed one-day course, the Certificate in Exit Planning, was released and hosted 10 times across the US in collaboration with partners to help educate advisors, teams, and owners alike.

Proactive Owner Education Introduced: CEPAs began to form collaborative teams that would go on to educate owners in one-day and half-day forums (coined 'The Owners Forum') which provided a needed bridge between exit planning advisors and transitioning business owners.

Exit Planning Partner Program Growth: EPI's Strategic Partner Alliance Program doubled as more industry-leading firms built strategies around collaboration and team play and found this program as an opportunity to be a value-add resource to CEPAs and business owners.
2016: The Release of "Walking to Destiny: 11 Actions an Owner Must Take to Rapidly Grow Value & Unlock Wealth" Book
—Serving 1,200 advisors worldwide—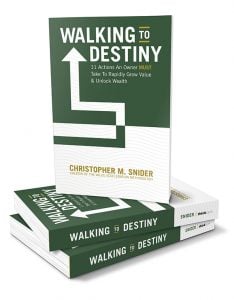 In 2016, Christopher Snider published the official value acceleration and exit planning handbook: Walking to Destiny: 11 Actions an Owner Must Take to Rapidly Grow Value and Unlock Wealth, written for business owners and exit planners. This written contribution to the marketplace also serves as a resource companion for the Certified Exit Planning Advisor (CEPA®) credentialing program.

Snider was awarded AM&AA 2016 Thought Leader of the Year and NACVA 2016 Industry Titan "Industry Architect" honors for his book and his overall advancement of the exit planning profession.

In response to market demand, the CEPA® credentialing program expanded to offering four training programs a year, certifying and supporting more than 400 CEPAs from eight countries worldwide. Additionally, EPI Chapter Network expanded to 20 chapters and EPI's online education platform expanded to offering free resources to virtual learners.
2017: The State of Owner Readiness Goes Local and CEPA® Celebrates the 10th Anniversary
—Serving 1,800 advisors worldwide—
Prior to 2017, The State of Owner Readiness™ was a powerful research study that measures the business attractiveness and owner readiness on a national level. But how do national stats compare to local market realities?

In 2017, EPI (in partnership with BNY Mellon Wealth Management) completed the first-ever regional State of Owner Readiness reports in San Diego County and Greater Nashville, which led to the polling distribution, diverse partnerships, and regional research of many markets to follow:
All reports, ongoing projects, research partners & sponsors, and public content can be found at www.OwnerReadiness.com.
2017 also marked the 10TH anniversary of the CEPA® credential, which was scheduled to be celebrated at the 2017 Exit Planning Summit on September 11-12, 2017 in at Ritz-Carlton in Naples, Florida. However, the Gulf Coast of Florida (along with many surrounding regions) were impacted by Hurricane Irma on the exact dates of the Summit, so with five days to go, the Exit Planning Summit was swiftly moved to the Fairmont Princess in Scottsdale, Arizona and our community had a chance to come together to celebrate and raise money to support local charities in both regions.
2020: A Reinvented Way to Learn - CEPA Goes Virtual
—Now serving 9,000+ advisors worldwide—
The COVID-19 pandemic completely shifted the way we, and many other companies, did business. Up until this point, we were an in-person education company and the only virtual education we had hosted were 1-hour webinars. We had to quickly pivot away from strictly in-person education to educate and empower advisors and owners in a time where exit planning was needed more than ever.
To meet the growing demand from the worldwide advisor community while staying true to our best-in-class commitment to high-quality educational experiences, CEPA Online redefined what online learning means, breaking away from "webinar mode," and bringing something new to the market that hits on the most critical factors for learning.
Developed to exceed advisor's expectations of run-of-the-mill webinar training: CEPA Online is a five-day virtual classroom experience that trains and certifies qualified professional advisors with the Certified Exit Planning Advisor (CEPA) credential. It was important to us to not create just another webinar-style training that advisors would take alone in their home office. CEPA Online is a production-quality, first-of-its-kind, "Edu-Series" experience delivering one-on-one live, simulated education in a way advisors will retain and put to use immediately in their practice.
2021: Passing the Torch - Scott Snider is named President of EPI
—Now serving 12,000+ advisors worldwide—
On the ninth anniversary of the Snider's acquisition of the Exit Planning Institute, Scott Snider was named President. Chris Snider remained on as the CEO of Exit Planning Institute and said of his son stepping in to the role of President, "he is the right leader to help achieve the strategic ambitions of EPI, maintain the brand promise, and continue to drive the organizations core values forward."
This was the year EPI launched our expanded exit planning content library including our "From Successful, to Significant" whitepaper.
Scott Snider shares, " A significant company is one that is ready, attractive, valuable, and transferable at any given time. The company is near best-in-class performance while having employees, vendors, and partners that enjoy working there and are a part of a culture. The owner is decentralized from the company, which runs independent of the business owner. Customers are happy, well engaged, and entangled with the company. And the business owners personal and personal financial goals are tied together and well defined in a master plan. This company, their employees, and their owners live the Value Acceleration Methodology lifestyle. It is a part of their daily jive and rhythm." To read Scott's entire vision for EPI, click here.
2022: The Next Stage of Advisor Education - EPI Academy Launches and the Exit Planning Summit Returns
—Now serving 15,000+ advisors world
wide—
Professional advisors are constantly improving and expanding their skillsets. This is especially true for those in the exit planning industry. After the success of the CEPA Online program and with growing demand for further exit planning education, we launched EPI Academy.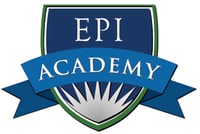 EPI Academy is Exit Planning Institute's new interactive online learning platform. The platform was designed to allow advisors to easily find the content and education they are looking for to enhance their practice and get the most return on their CEPA credentials. This platform also includes recommended learning and professional development plans. Scott Snider says EPI Academy is "continued professional development in a convenient way. It provides advisors with a platform to build and advance their own practice by completing courses at their own pace online."
After two years without an Exit Planning Summit due to the pandemic, EPI planned and held the largest exit planning conference in the world. Held in Scottsdale, Arizona, the 2022 Exit Planning Summit welcomed over 500 advisors from across the globe for three days of exit planning education, content, and networking.
The Exit Planning Summit is the premier conference for professional advisors who are committed to working with business owners, accelerating business value, and building their advisory practice. Learn more about the Exit Planning Summit!
2023: Now Serving 4,000+ CEPAs and Over 20,000 Advisors Worldwide
—Now serving 20,000+ advisors worldwide—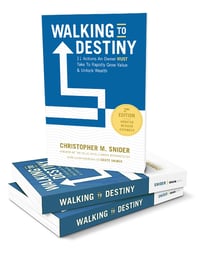 After 7 years, Chris Snider will release the second edition of Walking to Destiny: 11 Actions an Owner Must Take to Rapidly Grow Value and Unlock Wealth. The updated and revised book includes another seven years of insights using the Value Acceleration Methodology™ and about how the industry has developed and changed since Chris Snider wrote the first edition.
Chris shares, "When Walking To Destiny was first released, boomers owned two-thirds of the privately held businesses in the market. In 2023, that number has fallen to 51%. That's significant because boomers have been driving social and economic values for 70 years. The influence of NextGen business owners is growing and will continue to grow. They have a different set of economic and social values. They are more educated, more aware, think more holistically, and recognize the benefits of exit planning. As key advisors to these new, younger owners, we need to adjust our approaches to accommodate this new paradigm in the market-a new paradigm I'd like to think EPI and CEPAs have created or at least certainly influenced significantly."
Read more about the second edition of Walking to Destiny in an exclusive interview with Chris by clicking here.
Global Platform: EPI has expanded into their 24th country, 50th US State, and is now recognized/approved by over 40 organizations.
CEPA® Credentialing Program Expansion: The CEPA® Credentialing Program has expanded to eleven virtual programs throughout the year.
Chapter Network Growth: The chapter network will experience more growth expanding to its 28th market.
Virtual Education Focus: EPI now offers dozens of webinars and virtual training options every year on exit planning-centric and relevant industry topics to help advisors stay current and educated on present trends, knowledge, and updates (while in some cases earning CE credits for limited to no cost).
Our Exit Planning Philosophy
Exit planning is business strategy.
Official 'Exit Planning' Definition: Exit planning combines the plan, concept, effort, and process into a clear, simple strategy to build a business that is transferable through strong human, structural, customer, and social capital. The future of the business owner, their family, and the business itself are addressed by exit planning through creating value today.

Exit planning is not just a plan. It is a strategy rooted in execution that grows value while expanding options so that an owner can transition the business on their terms when they are ready. It aligns the business, personal, and financial needs of the owner. Certified Exit Planning Advisors (CEPA®) educate the owner on all of the exit options and enters an engagement with an exit-option-agnostic perspective to truly serve the business owner's diverse needs. CEPAs collaborate with a seasoned, multi-disciplinary team of professionals to support the success of the business owner and use each other's specialties and expertise to the benefit of the project.
The Value Acceleration Methodology™
The Value Acceleration Methodology is your strategic framework for executing exit planning. It is the value management system that makes the timing of an exit irrelevant. Exit planning is laser-focused on what you can do right now to grow the value of the business and drive income. Forget the future. Focus on today. By focusing the approach on building a business with characteristics that drive value and integrating the owner's personal and financial objectives into it now, there will be many options to exit on the owner's timeline and terms.

These concepts are covered in depth in Snider's book, Walking to Destiny: 11 Actions an Owner Must Take to Rapidly Grow Value and Unlock Wealth. Download the Value Acceleration Methodology origin story and case study now.
Collaboration is Our Ally
The Exit Planning Institute creates an exit planning "ecosystem," and due to the diverse nature of exit planning, EPI has fostered a hyper-engaged exit planning community. This community includes CEPAs, other collaborative advisors, strategic alliance partners, academicians, the media, and business owners from across the globe made up of 18 countries, 49 U.S. States and representing over a dozen different professional disciplines. To serve this elite and cross-functional community on one major platform, EPI produces the best content as it relates to exit planning, succession planning, and value acceleration, provides ongoing advisor support and practice development, and creates connectivity to transitioning business owners.
Meet the Team
EPI Global Headquarters is located in Cleveland, Ohio | Eastern Time Zone (ET)
MEET THE CEPA® FACULTY
The CEPA Program is the only exit planning credentialing program taught by a diverse team of 13+ experts. Why? A single advisor cannot understand every facet of exit planning with deep expertise. Each exit planning advisor has a certain expertise or service they provide within the exit planning engagement. While you certainly maintain an important role, it is critical to surround yourself with like-minded experts with complementary strengths, so you can truly serve an exiting owner's holistic needs.
Connect with Local Chapter Leaders
The EPI Chapter Network brings together local advisors dedicated to changing the outcome for middle market owners looking to grow, transition, or exit their businesses. Engage with the EPI Chapter Presidents from across the country.
Explore the EPI Partner Network
Exit planning is a community, not a competition. Collaboration amongst advisors and partners is critical when helping a business owner build transferable value while aligning their business, personal and financial goals. CEPAs are united around one core methodology and process. They believe in one organizing principle and they share common goals. It is not a one tool fits all marketplace or solution. Good exit planning allows for the integration of many. Through these collaborative and industry-leading partners, CEPAs are able to effectively execute Value Acceleration with their business owner clients and drive results. These partners, a part of our Exit Solutions Marketplace, provide CEPAs with delivery and assessment tactics and tools, project and engagement management systems, marketing solutions and strategic advice, revenue generating opportunities, educational platforms and content, and set of unique expertise to effectively engage and help business owners in exit planning. Through this powerful community, CEPAs are changing the outcomes for business owners.
Reinvent yourself with exit planning.