THE CHANGING LANDSCAPE OF SMALL BUSINESS: THE SELLER TSUNAMI
More than 50% of small and medium-sized businesses are owned by the baby boomer generation. During the next ten years, we will not just see a transfer of wealth unlike anything before, but also a transfer of entrepreneurship. The opportunity we are missing, however, is the cultural and technological shift that this Tsunami will create.
Learning Objectives:
In this keynote, we'll explore:
What is the Seller Tsunami, the opportunities, and challenges it presents
How can we as entrepreneurs and consumers benefit
What kind of cultural changes may happen as well
Thank you to our Sponsors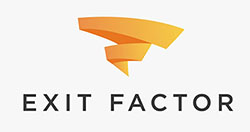 EXIT PLANNING IS GOOD BUSINESS STRATEGY
The Exit Planning Institute, provides Financial Advisors, Accountants, Consultants, and other advisors of business owners with the critical education to differentiate themselves and add value to their existing client relationships through a credential, conference, courses, and content. Download the CEPA brochure for more information.