Welcome to the EPI Network
The Exit Planning Institute (EPI) is the authority in exit planning and value acceleration.
Exit planning is simply good business strategy.
Exit planning does not solely address an event; it addresses the holistic needs of an owner's business, personal, and financial needs. Every advisor who works with business owners can benefit from understanding how they fit into EPI's Value Acceleration MethodologyTM, which illustrates the mutual benefits of making succession planning and exit planning part of the conversation early.
You are the advisor that can change the outcome of the middle market. EPI is your partner to move from big idea to game changer. Learn how to join our global community and about the Certified Exit Planning Advisor (CEPATM), the most widely endorsed and accepted exit planning designation in the market today, by visiting www.EarnCEPA.com now.
NATIONAL STATE OF OWNER READINESS RESEARCH™
Recent studies show that 66% of the current American business market is owned by Baby Boomers, who are set to transition over the next zero to ten years. Statistics also show that only 20 to 30% of businesses that go to market actually sell; leaving up to 80% of those without solid options to harvest their wealth and ensure economic continuity into the next generation. An owner who is "ready" with an attractive business greatly increases the odds that the business will survive a transition of hands. The question is, how ready is the marketplace to succeed and what can you do about it?

STAY CONNECTED WITH GREAT CONTENT
Want to succeed at succession planning? Want to empower earlier exit planning? Follow the EPI's #ExitisNow Blog for relevant content that motivates, informs, inspires, and transforms the conversation, expands options, and changes outcomes.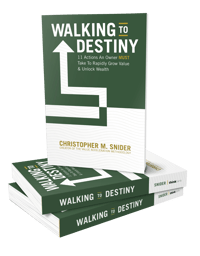 Download Free Chapters
Walking to Destiny:
11 Actions an Owner Must Take to Rapidly Grow Value & Unlock Wealth
Written by Christopher M. Snider, CEPA, EPI CEO/President,
2016 AM&AA Thought Leader of the Year, 2016 NACVA Industry Titan
REINVENT YOURSELF WITH EXIT PLANNING